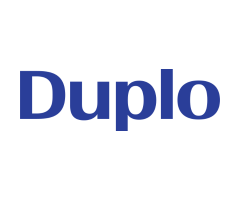 We provide automated and easy to use finishing solutions for the print and digital packaging market. Automating complex manual processes and connecting finishing solutions to your print production, Duplo improves efficiencies and reduces errors to help you produce more, with less
Why Choose Duplo?
Duplo UK is the UK arm of Duplo International. We automate manual processes, simplify complex tasks, improve efficiencies & reduce errors to provide businesses with agility.
Over 40 years ago we produced the first multi finishing device that could cut, slit, crease and perf in a single pass. Now our multi finishers are used in over 60% of all UK printers to help reduce labour, increase efficiency and help produce high quality products consistently with very little waste.
We also manufacture market leading automatic booklet makers, digital cutting tables, rotary die cutters, folders and digital spot UV embellishment devices.
Adding More Value
When you're working with Antalis, it's not just our expertise and extensive product range that you have access to, but also a huge range of added value services.